Yard Fard Days "Stand By Your Man" Contest for August 1st
All are Welcome to Join!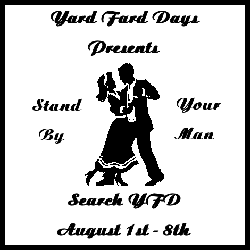 Anything a Man Could Ever Want or Need!
The Rules for this Contest are: 1. YFD in the title (for Yard Fard Days) 2. Your item must be something for the man in your life! (ie. husband, brother, son, father, nephew, granddad, etc.) 3. Max # of auctions - members: 10, non-members: 3 4. Describe your item & flaws or defects to avoid NEG 5. All auction(s) must have a $4.44 opening bid 6. Listings must run for 7 days - no BINs, Dutch or fixed price listings (only regular core) 7. Use the official Yard Fard Contest logo in your description. 8. Auction(s) are to be listed ONLY on Friday, August 1, 2008 eBay time (PDT). 9. You will need to have the following disclaimer in your auction (can be in a smaller font): This auction is part of the monthly Yard Fard Days (YFD) contest. YFD is an eBay recognized sellers group that promotes eBay community values. Thank you for looking!! 10. Most importantly - HAVE FUN!